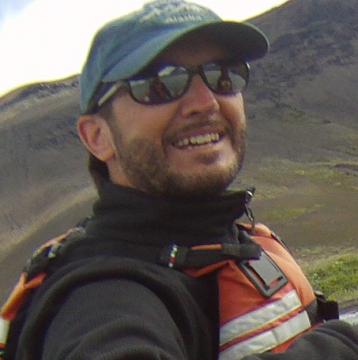 Why did you choose Alaska for your fascinating documentary?
Alaska has captivated me since I was a young boy, a fascination I inherited from my father. He had long dreamed of "Alyeska, The Great Land", having read Jack London's stories of the north when he was a boy. Then when I was six years old, my father was finally able to fulfill his dream, leading our family on an epic camping trip, driving 4500 kilometers up the Alaska Highway through the boreal forest of Canada, then exploring "The Last Frontier". What an impact that trip had on a little boy -- I've been returning to Alaska ever since. The Ends of the Earth is only the most recent natural history film I've produced on wilderness areas in that storied land. Filming the giant bears of Katmai is an aspiration of all wildlife filmmakers and the mysterious, remote Aniakchak caldera, far out on the Alaska Peninsula, was a lure I could not resist.
How long did you shoot?
We filmed frequently over a two year period, spring, summer and fall for two years in a row. The weather is so unpredictable in Alaska that my strategy was to work with cinematographers who live in the region, giving them the flexibility to decide when and where to film based on the weather. I went up frequently to direct important shoots, such as the bears on the meadows at Hallo Bay, the bears at Brooks Falls and the expedition to Aniakchak.
Were there any problems?
The giant brown bears were not a problem but the weather always is in a maritime climate, particularly with such cloudy and rainy conditions in a remote wilderness where bush planes are the only form of transportation. On the Alaska Peninsula the weather is described as "consistently miserable", mostly frequent rain and grey skies but with high winds as well, called "williwaws", so the time investment is high in order to get those few and far between clear, blue skies. It may seem that such close proximity to so many bears would be a problem because of the danger, but that's really not the case. As long as everyone in the crew understands bear behavior and treats them with the respect they deserve, the bears are not a problem.
Which were the most beautiful aspects of your work?
Aniakchak is famous for a unique and beautiful weather pattern, "cloud niagaras" or "cloud cascades", in which clouds move across the Peninsula and pour over the rim of the volcano to the caldera floor like vaporous waterfalls. I was hoping we could film at least one during the week we were on the ground in Aniakchak; we saw so many we became very selective connoisseurs of cloud niagaras.
Which is the most important documentary have you shot in your life, why?
What greatly intrigues me about filmmaking is the way audiences bring their own experiences and interpretations to a film screening. Often the images or storytelling will elicit reactions in the audience that the filmmaker may not have intended, reactions that are often quite powerful and unexpected, drawing on the memories and experiences unique to that viewer. I have had different audiences tell me that a particular film of mine was important to them in some way; so I would say that whichever film of mine speaks powerfully to an audience is the most important -- to that audience.
What future projects do you have?
My next project is, surprisingly enough, not a film, but a book: a collection of natural history essays on my experiences making films in the remote wilderness areas of Alaska.
Have you already been at Sondrio Festival. What do you think about it?
Sondrio is a wonderful, unique festival that is treasured by those of us who make films on parks and protected areas. The warmth of the reception I received when my previous film was in competition is something I will never forget.
Why did you decide to return at Sondrio Festival this year to show your work?
There is no other festival as unique as Sondrio when it comes to films on parks and protected areas. Being a finalist at Sondrio is a badge of honor.
What is the message you are trying to put across?
I hope audiences will find many things in The Ends of the Earth that speak to them, from the artistry to the storytelling to the imagery to the music. The intact ecosystems of wilderness Alaska inspire wonder; the giant bears of Katmai inspire awe; the massive salmon runs elicit admiration; and the reality of climate change is sobering. I hope the audience will develop a love for these wild places and wild things and take steps to protect them.
Do you like Valtellina and Sondrio?
I have fond memories of Sondrio and Valtellina and wish I could be there for the festival this fall, and I am tremendously envious of my co-producer and great friend Roy Wood who will be in Sondrio this year.