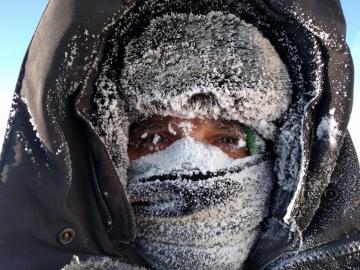 The director Oliver Goetzl tells us about his film, America's national parks - Yellowstone
-Why did you choose Yellowstone for your documentary?
NDR Naturfilm / Doclights asked us to take part on their 8 US National Park series for German Television (ARD, NDR), National Geographic Channels, ORF and ARTE. They wanted us to realize two episodes for that prestigious landmark series.
We've chosen YELLOWSTONE N.P. and YOSEMITE N.P. as it was always my childhood dream to visit Yellowstone and a real challenge to make a film there.
There are so many films about that park so that we thought it will be only possible to make an outstanding new film about that region with the use of extreme man power - means a lot of extra shooting days. And another aspect was to talk, besides the necessary iconic species like wolves, bison, elk and bears, also about small & more unknown species of the park like the ruffed grouse with its peculiar display or the cliff swallow colony on the backside of the world famous Soda Butte Cone, which was never part in any of all the other Yellowstone films. Also the little flies who mate and lay eggs in the middle of winter because of the hot springs were new for me.
-Is it a true paradise of wilderness?
Yellowstone is a true paradise of wilderness - away from the park roads! There are millions of visitors each year and luckily just a few roads to be taken. That means of course traffic jams in high season (or if bison use those roads…) and noise along those roads and parking lots. But luckily there are not too many hikers in the park and so in the back country you have a real feel of wilderness. Also those dangerous thermal features provide great natural barriers for people - so that wildlife can hide and live in peace in those areas. The roads are also wisely placed so that the people can observe wildlife from parking lots, especially in Lamar Valley and Hayden Valley. Where else in the world are you (and I mean plenty of tourists at the same time) able to observe a pack of wolves hunting? That's fantastic! It is just very necessary that the zones around the park are more restricted for the use of weapons etc.  - because wolves who leave the park boundaries are often killed by ranchers.
-Did the film take three years to be shooted ?
Yes, the filming took place from January 2012 to summer 2014. After that we spent also half a year on postproduction to finish the film.
We spend 3 winters (about 2 months - January/February each), 3 springs (from late April to mid-June), 2 summers (July / August) and one autumn (September October) in the park. Fantastic time!!!
-Which were the most beautiful or curious days/aspects of your experience?
Of course that was the unbelievable but true, once in a lifetime, bison calf story! We spent two full days with that new born bison baby which was stranded on that river island in Lamar Valley. No adult bison around for those two days but an active wolf just 5 km away from that place. So we knew something's gonna happen sooner or later. What then happened was beating all our expectations: Some wolves passed that calf just a hundred meters away from it 'cause wind direction wasn't ideal for them and the river too loud to hear that baby. Then on the second day after sun went down finally the calf left the island and walked along the shore of the river and was now spotted by a wolf who immediately attacked that calf: But the weakened baby who had no milk for two full days defended itself bravely and the wolf failed to bring it down and then, right in time and out of the blue the bison mother came for rescue! No other bison with her, so she was obviously still searching for her new born. The young wolf was speechless and had to give up: The brave calf survived and after nursing it went away from that seen close to its heroic mother. Unbelievable.
-Which future projects for your work do you have?
I'm right now editing our film about arctic wolves - which has an even more unbelievable and again very true and heartbreaking story about a wolf pack on Ellesmere Island /Northernmost Canada! This story will chance wolf science as we filmed content which has never even been observed before and also shows new aspects of wolf pack structure and behaviour.
We have two new projects in the process of filming right now: One about a volcano in Kenya with a crazy animal adaptation and another one in Equatorial Guinea on Drill monkeys (the unknown cousin of the Mandrill - the "Rafiki" of Disney's "The Lion King").
-What do you think about Sondrio Festival?
The Sondrio festival is a world famous and prestigious film festival for us wildlife filmmakers: There are not too many festivals with this specific focus on National Parks and nature in general, so awards there are much sought-after in our community.
We are very happy to have won 3 times the Student jury award (2006, 2011 and 2012) in Sondrio, which makes me very proud because it's the young people who need to be impacted by nature as they are the decision makers of tomorrow. And I'm especially glad about it also as I see us as very classical natural history filmmakers who don't chase every new trend in filmmaking: So the younger people are not superficial and obviously also appreciate "old school" and our hard work in the field to achieve rarely seen behaviour sequences of animals all over the world. That's so cool!
-Did you know Sondrio and our land Valtellina?
Yes, I was lucky enough to attend at the 2012 Sondrio festival, which was fantastic as I made a extraordinarily beautiful nature hike with other delegates and festival organizers there and had nice evenings with wine and excellent food. Thanks a lot again for your hospitality and kindness.