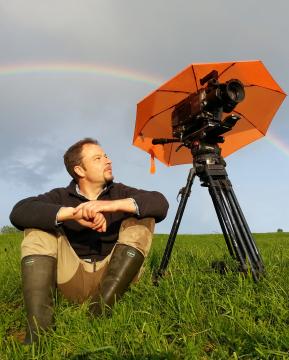 In 2013, Jan Haft won the first award of Sondrio Festival with your wonderful documentary The Moor. This year he presents the documentary 
Magical moors. 
 
Mr. Haft, why did you choose again this particular and mysterious habitat?
"The Moor" was a film about one of my favourite environments. We filmed mainly in Bavaria, where we live, and the 44 Minutes were easy to fill with stories and pictures. After the film had won some awards, in Sondrio and elsewhere, and had a good audience share in TV, we talked to the comissioner (BR, Udo Zimmermann) and a Distributor (Polyband Medien) and made the plan for a theatrical film about the same topic.
 
Are the moors still little known?
Moors are wet and swampy (and scarce) and not as suitable for us to walk and enjoy as compared to a forest, for example. So, we have less experience of its nature and we have not so familiarity with the particular species living there. Thus everything is worth to show and to tell. Especially because many life forms in moors are rather unique, and often show bizarre adaptations to this harsh environment.
How long did you shoot your film?
It took a period of six years, if we consider also  "The Moor".  
What were the most beautiful or particular aspects of your work?
Others may judge the most beautiful parts of the film. I personnally like the lekking "Great Snipes" and the micro-life in the little moor-pools.
Did you see any particular animals?
A lot of moor dwellers are really particular. Observing wolves and cranes in a seemingly endless scandinavian moorland is a thrilling experience. But seeing and filming fighting and mating adders in a small moor in the Alps was especially joyful.
What future projects do you have for your work?
We are currently finishing two films about bees and butterflies and are shooting above and under water for each a documentary about the ecosystem of fjords and abours brooks and streams. And we just started with a new theatrical film called "The real life of Bambi", a film with a lot of sad and happy moments alike.