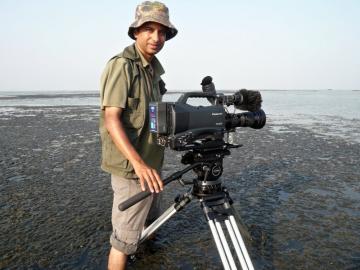 Why did you choose this important place for your documentary? How long did you shoot? What were the most beautiful aspects of your work?
Actually, I did not choose to make this film! The agency that manages the lake, the Chilika Development Authority, chose me to make this film for their use.  I live in the city of Chennai on India's east coast and Chilika, which is also on the east coast, is a two-day drive north from Chennai. My crew and I made three trips of about 15 days each to shoot the film. The main challenge was the fact that, except in winter, when there are flocks of migratory birds, the lake appears devoid of wildlife for most of the year. Also, the landscape is flat and featureless. So, all in all, finding interesting things to film was not easy! However, it is always pleasant to be out on the water and a majority of our time was spent on a boat, looking for birds, dolphins or fishing activities.
In what way to save the environment is important for the human safety (in this case) ?
Over 200,000 people are dependent on Chilika for their livelihood. So maintaining the ecosystem in good condition is crucial to their survival.
 
How many documentaries have you shot in your life? Which is the most important, and why?
I have made over 25 documentaries and have contributed camerawork for several others. Each film is special and important in its own way. One short film I made on a highly damaging mining operation within a rainforest national park helped in getting the project stopped. While not all films can have such a tangible impact, they all play a role in shaping public opinion and awareness.
What future projects for your work do you have?
At the moment I don't have any plans for other films, but do have a couple of book projects that I propose to start work on soon.
You have already been at Sondrio Festival, what do you think about it? And what about Valtellina and Sondrio landscape?
I thoroughly enjoyed my three trips to Sondrio, twice as a participating filmmaker and once as a member of the final jury. The first time I attended the festival was in 1991! I love the intimate and relaxed atmosphere of the festival as well as the warm hospitality showered on guests by the organisers of the Sondrio festival as well as the people of Sondrio. The town itself is very charming, and the surrounding countryside is peaceful and beautiful. The trip to Stelvio is always a treat.