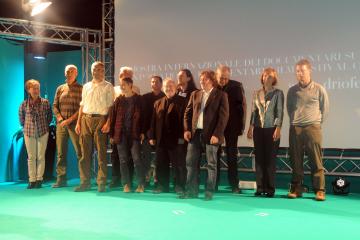 Film entries are now open for:
Sondrio Festival 2014 – International Documentary Film Festival on Parks
(Sondrio, Italy, 6 – 12 October 2014)
This unique documentary film festival and competition focuses on Nature Parks and Protected Areas, with further sections on environment, human activities, agriculture and sustainable development.
Sondrio Festival is also a forum for nature film-making, protected areas and environmental education.
Films selected for the Festival will be considered for the First Prize "Town of Sondrio" (5,000 Euros), the "Stelvio National Park" Award (3,000 Euros) and, for films shot in the European Union, the "Lombardy Region" Award (3,000 Euros).
Entry forms and nature films on DVD should be sent not later than 23 May 2014. There is no entry fee
Sondrio Festival
Mostra Internazionale dei Documentari sui Parchi
International Documentary Film Festival on Parks
Via Perego 1 – 23100 Sondrio (Italia)
Tel. ++ 39 0342 526260 Fax ++ 39 0342 526437
info@sondriofestival.it www.sondriofestival.it