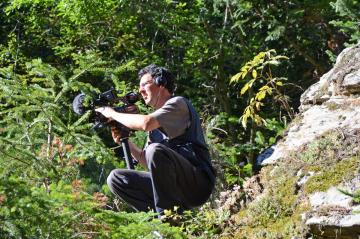 Sondrio and its Festival were a great experience for me, not only because I won the First Prize in 2010 but also thanks to the friendly atmosphere of the Festival. A festival which encourages a simple, direct relationship between the organizers, the film makers/producers and the audience. At the Sondrio Festival you can experience a strong sense of Humanity, in a mountain environment which is so dear to me.
My work as a documentarist has always been tied to the land my family is from. I was born and graduated in France but, when I finished with my studies, I heard the call of the land of my origin, because I was fascinated by the culture and the mountains of Aosta Valley.  Here, with dedication and hard work, I managed to build my filmography in the course of the last 15 years (in 1997 I made my first documentary about the emigration from Aosta Valley to Paris) and, in some cases, my works were appreciated by critics and audiences at international film festivals.
I travel around the world with my documentaries but my starting place is always the land of my origin:
small stories of people (and often of people and nature) which tell us something of the world from a wider perspective; because it with simplest stories of ordinary life that you can concretely reflect on society and nature in a global dimension.  Only stories starting from a micro scale can tell us at their best of the world on a macro scale.
A "real" documentary (not to be mistaken with docu-reality, apparently similar in the form but  essentially vulgar and voyeuristic) tells the stories of people, plants and/or animals always with a great respect for the featured environments and characters, with a strong sense of ethical responsibility of the film maker and/or producer towards the audience.  The deep soul of a documentary is made of Memory and of environmental and social progress.  We shouldn't forget this!
Joseph Péaquin
March 2013