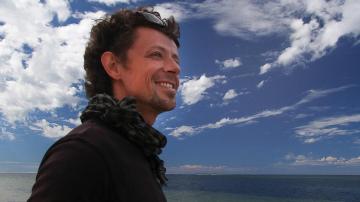 Cyrille Cornu, the director of BAOBABS BETWEEN LAND AND SEA (Baobabs entre Terre et Mer), tells us about his work
Released in February 2015, the documentary film Baobab between Earth and Sea directed by Cyrille Cornu, recounts a scientific adventure, in which we meet the Baobabs of Madagascar and the Vezo, a nomadic tribe of the sea. During 56 minutes, the film unveils breath-taking landscapes and follows a unique voyage by pirogue along four hundred kilometers of wild and isolated coastline. Naturalist and bio-geographer, Cyrille Cornu has worked for ten years at the International Centre for Agricultural Research for Development (CIRAD). He conducts research on ecological issues for over ten years, studying tropical dry forests and using satellite images to characterize their biodiversity, degree of deforestation and the impacts of climate change. For the last seven years he has focused on the baobabs of Madagascar and has become one of the world's leading specialists. Every year he organizes unique expeditions mobilizing local transport to access the hearts of the forest ecosystems where giants live.
Naturaliste, biogéographe, chercheur, Cyrille Cornu étudie les forêts sèches depuis une dizaine d'années au Centre de Coopération International de Recherche Agronomique pour le Développement (Cirad). Il s'intéresse notamment à leur diversité biologique, à la déforestation ainsi qu'à l'impact du changement climatique. Depuis sept ans, il se consacre plus spécifiquement à l'étude des baobabs de Madagascar dont il est devenu l'un des grands spécialistes. Chaque année, il organise des expéditions originales au cours desquelles il mobilise des moyens de transport locaux pour accéder au cœur de écosystèmes forestiers où vivent les géants.
L'île de Madagascar est une source d'inspiration inépuisable pour les cinéastes et photographes. Elle est unique à bien des égards. Nature et paysages y sont exceptionnels. La diversité culturelle y est également remarquable. Avec son premier documentaire, « Baobabs entre Terre et Mer », Cyrille souhaite faire découvrir au grand-public, à travers l'une de ses expéditions, les baobabs de Madagascar et leur vulnérabilité face à la déforestation ! La narration du film est intimement liée au voyage. Contenu et forme évoluent au rythme des rencontres et découvertes pour placer le spectateur au coeur de l'aventure.
-Baobabs are among the most remarkable trees on the planet. Why did you choose this fascinating subject for your documentary?
Since boyhood, nature, trees, and the forest have fascinated me. I first encountered baobabs in 1979 during a stay in Senegal with my parents. Even though I was not yet ten-years old, I fell under their spell. But it was another thirty years before I was to meet them again in Madagascar. They are powerful beings, mysterious, exciting. So exciting that six years ago I settled here on the Red Island to study them. Madagascar is the fourth largest island in the world with an area the size of France and Belgium! Of 32000 kilometres of roads, only 12000 are passable in the rainy season and only 5000 are paved. For comparison, France has more than one million kilometers of paved roads. It is understood that most of the territory is inaccessible by car. Many baobabs grow in isolated forests, difficult to access, and have never been studied. Only local transportation such as boat or zebu-cart will get you there. Sometimes you have to walk for hours. This makes Madagascar a place of adventure. The island of Madagascar is a great source of inspiration for filmmakers and photographers. Nature and landscapes are exceptional. Cultural diversity is also remarkable. I have photographed the island, its people and its nature for many years. With Baobab between Earth and Sea, I drew up a new objective: to share one of our expeditions in a documentary film as my first realization.
Depuis mon plus jeune âge, je suis fasciné par la nature, les arbres, la forêt ! J'ai rencontré les baobabs en 1979 lors d'un séjour au Sénégal avec mes parents. Je n'étais alors âgé que de dix ans mais suis de suite tombé sous le charme. Je n'ai retrouvé les baobabs que trente ans plus tard lors de mon premier séjour à Madagascar. Ce sont des êtres puissants, mystérieux, passionnants ! Tellement passionnants que je me suis installé à Antananarivo en 2010 pour les étudier comme chercheur. Madagascar est la cinquième plus grande île au monde. Sur 32 000 km de réseau routier 12 000 sont praticables en saison des pluies et seulement 5 000 sont bitumés. On comprend aisément que la majeure partie du territoire ne soit pas accessible en voiture. Beaucoup de baobabs poussent dans des forêts isolées difficiles d'accès et n'ont encore jamais été étudiés. Seuls des moyens de transport locaux comme la pirogue ou la charrette à zébu permettent de se rendre sur place. Il faut parfois marcher des heures ! Depuis 6 ans, nous explorons avec mon collègue malgache, Wilfried Ramahafaly, les régions de l'ouest malgache qui recèlent de trésors de biodiversité. Assez rapidement j'ai eu envie de partager ces aventures et faire connaître les baobabs de Madagascar avec le plus grand nombre d'où le pari de réaliser le film documentaire « Baobabs entre Terre et Mer ».
-How long did it take to shoot your film? Were there any problems?
The film chronicles a trip in June 2013 between the towns of Morondava and Tulear in Madagascar's southwest. We journeyed for twenty-two days by pirogue to explore four hundred kilometers of rugged coastline. The film reveals our findings, our encounters and our scientific results. The narrative is intimately related to travel. Content and form change the rhythm of encounters and discoveries in an attempt to place the spectator at the heart of the adventure. Filming conditions were difficult because of the seawater, salt spray, sand, long walks in the dry forests in the dust and heat. This has required the use of a sturdy material: a SLR camera and three solid objectives.
Toutes les images ont été tournées pendant les 22 jours de l'expédition en pirogue en juin 2013 entre Tuléar et Morondava dans l'ouest de Madagascar. L'objectif de ce voyage était d'explorer 400 kilomètres de côtes sauvages et isolées pour y étudier les baobabs ! Les conditions de tournage furent difficiles (voyage en pirogue en mer, sel et embruns, longues marches en forêts sèches, sable, poussière, chaleur) et nécessitèrent l'utilisation d'un matériel robuste, léger et peu volumineux, en l'occurrence un boitier reflex full HD associé à trois objectifs à grand ouverture focale.
-What were the most beautiful days/aspects of your journey/work?
In expedition, every day brings surprises and wonders. Difficult to prefer one day to another! However, two days were particularly outstanding. The one during which we visited the largest baobabs of Madagascar in Andombiry forest and the morning when we filmed from the top of a dune sunrise on a baobab forest in the region of Ankoba.
En expédition, chaque jour nous apporte son lot de surprises et d'émerveillements. Difficile de préférer une journée à une autre ! Néanmoins, deux journées furent particulièrement exceptionnelles. Celle pendant laquelle nous avons filmé les plus gros baobabs de Madagascar, ceux de la forêt d'Andombiry et la matinée où nous avons filmé du haut des dunes un levé de soleil sur une forêt de baobabs dans la région d'Ankoba.
-Deforestation is a serious problem, what do you think about it? Are there any solutions in your opinion?
Nine species of baobabs are described in the world. Six are endemic to Madagascar. Malagasy species are living in dry forests! Although millions baobabs live on the island, deforestation kills a lot! Many giants die each year because of slash and burn agriculture. It is urgent to limit burning as a means to clear forested areas. This practice, called locally "hatsake" is to use fire to clear forest areas and develop agricultural plots. The plots are harvested for two to three years and then abandoned because they rapidly become infertile. It becomes increasingly urgent to raise awareness on the dramatic impact of this practice on forest ecosystems, biodiversity, soil and even water resources. On site, things are not simple. Families act out of urgent need. They live in extreme insecurity, daily. The development of protected areas is a good way to stop the deforestation process but all forests can be protected in this way. Another solution is to implement community rules and sustainable management of forest resources with local populations.
Aujourd'hui, neuf espèces de baobabs sont décrites de part le monde. Six sont endémiques de Madagascar. Les espèces malgaches sont intrinsèquement forestières ! Bien que quelques millions de baobabs vivent sur l'île, la déforestation fait des ravages ! Beaucoup de géants meurent chaque année à cause de l'agriculture sur brulis, connu localement sous le nom de « hatsake » ! Le « hatsake » consiste à utiliser le feu pour défricher des espaces forestiers et les aménager en parcelles agricoles. Les parcelles sont exploitées quelques années, tout au plus cinq années, puis elles sont abandonnées car infertiles. Il devient extrêmement urgent de sensibiliser la population malgache sur l'impact négatif du « hatsake » sur les écosystèmes forestiers, la biodiversité, les sols et même les ressources en eau. Sur place, les choses ne sont pas simples. Les familles agissent souvent dans l'urgence et la nécessité. Elles vivent dans une extrême précarité, au jour le jour. Le développement d'aires protégées est un excellent moyen d'enrayer le processus de déforestation mais toutes les forêts ne peuvent être protégées de la sorte ! Une autre solution consiste à mettre en place des règles de gestion durable des ressources forestières avec les populations locales. Le plus important pour l'instant est de faire connaître les baobabs et de sensibiliser l'opinion publique malgache et internationale, sur le patrimoine extraordinaire mais en danger que constituent les baobabs et leurs forêts sèches.
How many documentaries have you shot in your life? Which is the most important for you and why?
Baobabs between Land and Sea is my first film, a self-produced film with a micro budget of around 7000 euros. I worked alone for shooting, sound and editing. I had a clear idea about the movie I wanted to produce, and the best way to achieve this was to do it myself. Not easy! Especially when one is constrained by the time-consuming exigencies of a researcher. One has also to learn many techniques and assemble everything for the overall production. It's fabulous! We spent a long time, with taking into account building such a story that gradually born through drifting experience. The most difficult was to cut the umbilical cord and let the film live. At least two hundred hours of work anyway! A few months after its release, the film was selected by many festivals in the field of the environment but also by general festivals. It has been screened by famous festivals like Innsbruck Nature Film Festival in Austria, Green Screen in Germany, CMS Vatavaran in New Delhi or Wildlife Conservation Film Festival in New York and of course Sondrio International Documentary Film Festival on Parks where the film won the first prize! I am naturally delighted by such success. I think the outstanding subject of the film has much to offer.
« Baobabs entre Terre et Mer » est mon premier film ! Il s'agit d'une autoproduction avec un très petit budget. J'ai travaillé seul pour les prises de vues et le montage. J'avais une idée précise sur ce que je voulais et la meilleure façon d'y parvenir était de mettre en œuvre les choses par moi-même. Pas simple ! Surtout quand on exerce l'activité chronophage de chercheur. Il a fallu apprendre de nombreuses techniques et assembler le tout, la réalisation. Passionnant ! On passe des heures à construire une histoire qui nait progressivement des limbes. Le plus difficile c'est de couper le cordon ombilical et de laisser vivre le film. Environ 300 heures de travail tout de même ! Depuis sa sortie en février 2015 et en seulement quelques mois, le film a été sélectionné par 31 festivals internationaux dont le festival de Sondrio. Il a déjà reçu 8 prix ! Ce succès rapide et inespéré me comble de bonheur. Vous comprendrez que dans ces conditions, « Baobabs entre Terre et Mer » est un film essentiel et fondateur de ma carrière de réalisateur naissante.
-What future projects for your work do you have?
I am currently preparing a second film on the baobab trees of the north of the island of Madagascar and in particular on the two rarest species Adansonia suarezensis and Adansonia perrieri! The second documentary is 'in the can'. I shot the images in November 2014 during an expedition by canoe between the cities of Majunga and Diego Suarez. In the coming years, I would like to visit the last portion of west coast that we have not yet explored, between Morondava and Majunga. I also plan to fly a para-motor tandem and film extremely remote and inaccessible baobab forests.
En novembre 2014, nous avons exploré le nord-ouest du littoral entre les villes de Majunga et de Diego-Suarez dans l'extrême nord de l'île. Trente jours de navigation en pirogue le long de sept cent kilomètres de côte à la recherche des deux espèces les plus rares : Adansonia suarezensis et Adansonia perrieri ! Ce deuxième épisode de la série documentaire « Baobabs entre Terre et Mer » est en cours de préparation. Dans les années à venir, j'aimerai visiter la dernière portion de côte ouest que nous n'avons par encore explorée entre les villes de Morondava et de Majunga. J'ai aussi pour projet de survoler en paramoteur biplace des forêts de baobabs excessivement isolées et inaccessibles par voie terrestre.
-What do you think about Sondrio Festival?
Festivals that screen movies on biodiversity and its conservation are relatively rare. When you know how the role of protected areas is crucial for the conservation of biodiversity and ecosystems, it is extremely important that a festival like Sondrio (International Documentary Film Festival on Parks) continues after 29 years to allow the public to discover films that deal with the protection of species and national parks! It was a wonderful opportunity for the film Baobab between Land and Sea to be screened here and a great honor to win the First Prize of the City of Sondrio.
Les festivals internationaux de cinéma qui proposent des films sur la biodiversité et sa conservation restent relativement rares. Quand on sait à quel point le rôle des aires protégées est crucial pour assurer la protection de la diversité biologique et celle des écosystèmes, il est extrêmement important qu'un festival comme celui de Sondrio (International Documentary Film Festival on Parks) continue après 28 ans à permette au grand-public de découvrir des films qui traitent de la protection des espèces et des milieux naturels ! C'est une chance et un grand honneur que le film  « Baobabs entre Terre et Mer » ait été retenu dans la sélection 2015 de Sondrio.
-Did you know Valtellina and Sondrio?
I discovered the region of Valtellina and the city of Sondrio with the festival. My researcher activities in Madagascar didn't allow me this year to come to Sondrio to represent my film. The unique environment of the Valtellina region makes it an ideal place to organize a film festival on the conservation of nature. I would like to come in future to visit the region and maybe even to present my second film on baobabs that is in preparation.
J'ai découvert la région de Valteline et la ville de Sondrio grâce au festival. Mes activités de chercheur à Madagascar ne me permettent pas de me rendre cette année sur place pour représenter le film et j'en suis désolé. Le cadre naturel exceptionnel de la région de la Valteline en fait un endroit idéal pour organiser un festival de cinéma sur la conservation de la nature. Je ne manquerai pas de venir dans les années à venir visiter la région et peut être même présenter mon second film sur les baobabs qui est en préparation.