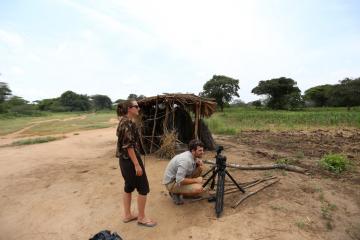 Andrea Pawel is a Brazilian/British conservationist, film director and writer. Andrea began her career through a fascination for primates and a desire to conserve them. However, during a recent MSc research project in Sierra Leone she became immersed in developing innovative methods for educating rural communities on environmental issues. Andrea merged her conservation background and her creative capacity by bringing the message of conservation to rural African audiences through film. Her films focus on specific conservation topics and are sensitive to the viewers living alongside the species of concern. Andrea engages local youth in the process of her filmmaking empowering them during this journey. Andrea is currently living in Tanzania where she is making conservation education films for an NGO called the Tanzanian People & Wildlife Fund.
This is what he told us about his film: "Kuishi Na Tembo (Living with elephants) is a film which is especially close to my heart. I spent a good part of last year in Sierra Leone working with rural communities trying to understand and measure which elements of film were most effective for positive behaviour change towards conservation. I carried out various experiments using several wildlife documentaries and measured local people's knowledge, attitude and perception changes as a result of the film they watched. What I found out was astonishing and yet so simple. A lot of current conservation films are not targeting the people living adjacent to the species of concern. These people have an every day affect on species survival and are truly the ones who can make a real difference. Therefore, it is critical that the films they are exposed to are an effective means of education. Kuishi Na Tembo is a short and simple film, targeted at children living in communities bordering Ruaha National Park in Tanzania. The film takes into account the children who may be undernourished and not have a long attention spam, children who may have had no previous education about the subject and address the fact that children simply want to have fun when given the rare chance to watch a film. Kuishi Na Tembo aims to educate on the benefits of living alongside elephants and exposes the issue of human and wildlife interactions, which are often negative in this case. Most of the local children do not get an opportunity to experience wildlife in a positive light; they only experience negative interactions when elephants come into their farms and crop raid. An outstanding, 80% of the local children I spoke to had never had the opportunity to see a real life elephant and have only heard horror stories of these giant beasts. Kuishi Na Tembo is an intimate film, illustrating close-up social interactions between elephant groups and their ecosystem. Another powerful element of the film is the use of an entirely local cast, the music was recorded by a local Maasai family, the actors are not actors but local school students and translation was done by a local education officer. These factors are essential in empowering the local community from the process of the filmmaking and the end product. The children became environmental stewards in their community and got a one in a life time opportunity to feature in a film".
The long synopsis of the film: The film portrays a local schoolboy educating a friend by telling her a story about the benefits of living alongside elephants. He shows her around his community, which borders Ruaha National Park, in Tanzania and which is home to the highest population of wild elephants left in Tanzania. The film focuses on the natural beauty and biodiversity of Ruaha, as well as touching on the complex political and economic issues surrounding habitat degradation and poaching in the region.