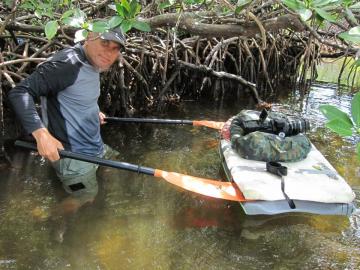 - Why did you choose this fascinating subject, the EVERGLADES, for your documentary?
This is one episode in a big 8-part series about the national parks of
the USA. I was honored to be asked in 2011 if I want to make it and
though I prefer to produce my own ideas, I just couldn't say no to
such an exciting and challenging project. It took more than three
years to complete this film.
 -Were there any problems shooting the film?
In wildlife fimmaking there are almost only problems! Except
those extremely few lucky days when you are witnessing and filming
something rare and extraordinary. This was the case in the Everglades
too, of ocurse.
Well, the biggest problem was the changing climate. The usual weather
cycle was broken and those 3 years that I spent in South Florida
nothing worked as it usually does... so there was not real dry season
(which is very important for the Everglades), rains came too early
killing lots of bird chicks, there was not a real cold snap that used
to happen every winter etc. It was crazy, everything was uncalculable
and unpredictable because of the weather.
What were the most beautiful or curious days/aspects of your journey/work?
For the filming I moved there with my family, so we lived literally
from a stone's throw away from the Everglades in order to be able to
react quickly if something happens.
Hm, every tropical sunset is magical as you drive home with car or
boat from this big watery wilderness!
Perhaps the most exciting was to film the dolphins' mudring feeding
which is very diffucult to get, I thought we don't have a chance but
finally we were lucky to witness this rare and fantastic animal
behavior known only from here, from the Florida Bay of the Everglades
National Park and we could film the sequence in a week - which is
quite amazing.
- What future projects for your work do you have?
Recently I am working on a film about the lemmings, a small lovely
rodent in North Scandinavia, which is super important in the local
ecosystem and the biggest lie in natural history (that they commit
suicide in masses) as connected to them. We will get rid of this
stupid belief, I hope. 
 -What do you think about Sondrio Festival?
I think it's fantastic to have a film festival about parks! Brilliant idea.